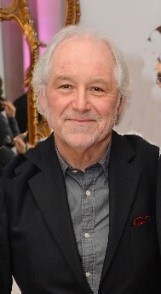 Robert Howes is an award-winning musician, director & producer.He grew up in Leicestershire, with family roots in Norfolk, where he now lives. He won his first music festival as a boy soprano at the age of 7. He was educated at the King Edward VII School Melton Mowbray and at the Royal Academy of Music, where he was awarded the Samuel Prize and formed the Vocal group The English Chorale. He was a member of The Leicestershire Schools Symphony Orchestra where after playing the Clarinet and Euphonium, a lifelong passion for timpani and percussion began. Sir Michael Tippet the orchestras patron, directed his Child of Our Time with the orchestra, an inspirational experience that encouraged Roberts love of singing and choral music and his ambition to make music his life.

He joined the London Mozart Payers on leaving the Royal Academy and has played with and been a member of many of London's Leading Orchestras, including those involved in authentic performance. Through his love of choral music and singing, he created the highly successful BBC TV's Song for Christmas in 1976, which ran for 25 years. This led to composing music for all the main broadcasters from the award winning ITV series Rescue, The theme to Pebble Mill at One and Kilroy, to the award winning channel 4 series Animal Squad and The BBC's award winning "Soldiers" Frederick Forsyths "The History of Men in Battle". Further television production as a producer followed with his first commision in 1996 by ITV of the children comedy drama series "The Rottentrolls", which won a BAFTA written by award winning writer Tim Firth. The second BAFTA was for Ripley & Scuff also for ITV which had music and the arts at its heart, other adult and family productions include the comedy series "Dare to Believe", the celebrity late night puppet chat show "Dan & Dusty" and the BBC2 Special "Combat Sheep" featuring Steve Coogan. Robert as a record producer has worked with many major companies including EMI,RCA,BMG,Warner Bros and Sony. He has held professorships at the Guildhall school of Music and Drama, the Royal Scottish Conservatoire of Music & as been a visiting lecturer at the Tokyo College of Music, Tokyo University and Yale University. As a Musical Director Robert has worked with a wide variety of ensembles, reflecting his broad musical interests. From the English Chorale and Baroque Brass of London to The English Concert with Crazy Composers. He recently joined forces with Tim Firth and Gary Barlow to train the 200 strong Calendar Girls Choir for their hit musical.

In 2019 he joined The Alison Balsom ensemble, to record her new Decca album and for her German Tour.The Crazy Composers project was created in 2014 in partnership with The Childrens Company to help spread the joy and magic of classical music to Primary School children throughout the UK. A long association with the Buxton Festival and UKs Leading Baroque Orchestra, The English Concert ensued. In 2019 Crazy Composers began a long-term community project with Forest Arts in Walsall supported by Midcounties Co-op
Robert is a passionate believer in the power of music to change lives and works and campaigns for it to be an integral part of the school curriculum for all children.